Cultivation and Harvesting
Learn about what makes these fungi both exquisite and extremely profitable.
The harvest season depends on the truffle species, and to a lesser degree, the local environment. The black perigord truffle, Tuber melanosporum, is typically harvested from December to late February, or perhaps early March. Truffles do not mature simultaneously, and the orchard must be worked every 7 to 10 days to maximize the harvest. The soil type also comes into play. Truffles may be found just below the surface, or to a depth of 6-8".
Pigs are more often than not associated with hunting truffles. The mature truffle produces a distinct aroma that is reportedly similar to the male pigs' sex hormones.  One should consult a pig to verify this. Pigs are excellent hunters, but they are rarely used in modern truffières, as they exhibit little restraint, and tend to eat the found truffles quickly with little thought given to moderation.
The truffle harvest is, for the most part, carried out with the time-honored tradition of a well-trained truffle dog.  Dogs, with their keen sense of smell, along with a natural desire to please its owner, are a proven method of detecting truffles in the orchard. Debates about 'which' dog to use are common among truffle growers and enthusiasts. Some distinct breeds are utilized, as they are believed to be superior truffle hunters; however, the consensus seems to be that a dog's temperament is more important than its pedigree. Visits to the Teruel truffle area in Spain provided many truffle dog encounters.  Most of the dogs were spaniels of widely varied bloodlines or non-descript mongrels.
A truffle dog must be trained to the odor of a truffle and to indicate its presence and specific location in the orchard. The handler then must actually dig out the fungi to prevent damage by the dog's feet if the dog were to dig.  Dogs must be rested frequently while working to give their noses and minds a break.
A dog trained to hunt one truffle species will be able to find other species as well, without additional training.
Since the harvest is limited to certain months, the dog must be worked in the off-season to keep hunting skills sharp. There are also individuals that have trained dogs, and will work an orchard for hire.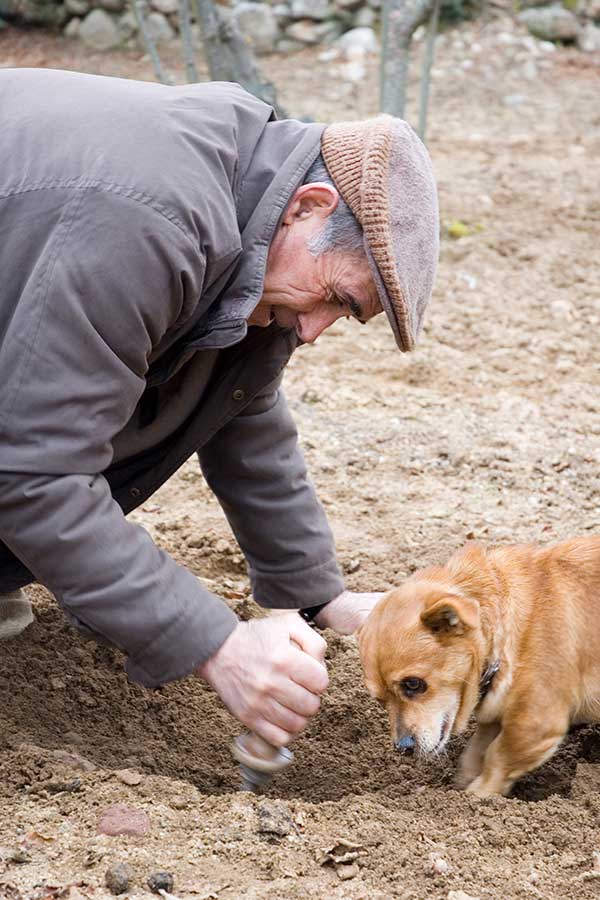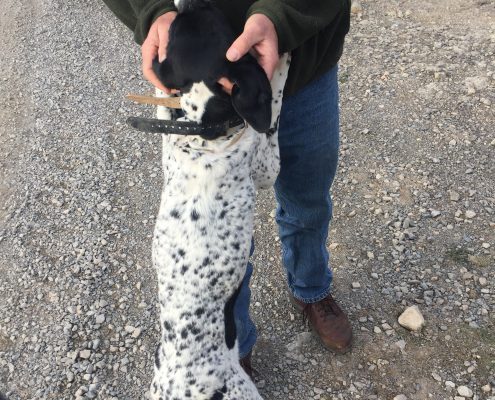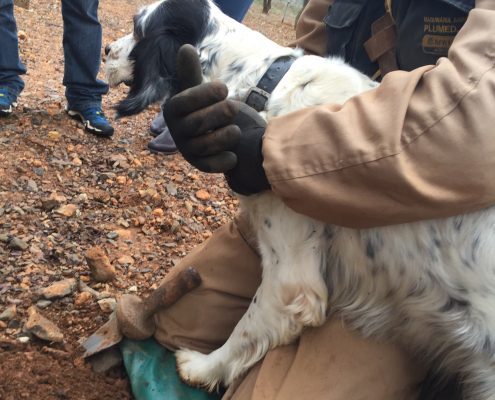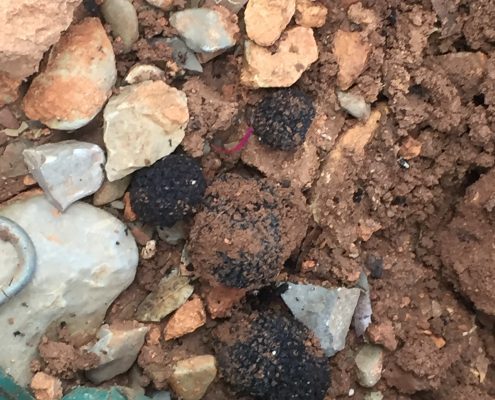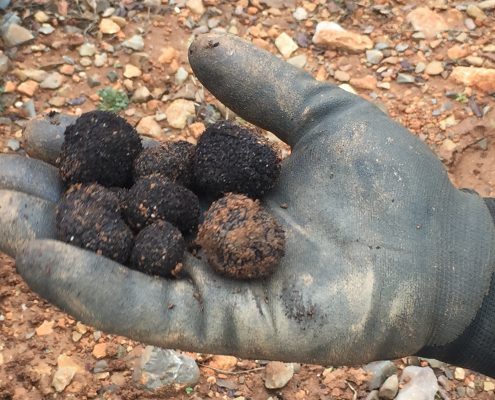 Contact
269 Drake Farm Road
Fletcher NC 28732
We Are Open
Mon-Fri 8:00 AM to 4:00 PM               *Visits By Appointment Only*
Partners